Bulk SMS messaging and its use in different industries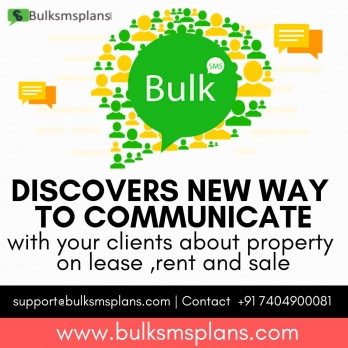 Bulk SMS messaging is a process of applying to person SMS messaging service. It refers to specifically sending a large number of messages to a group of recipients. There are several industries where bulk SMS messaging is being put to use and it is showing its capabilities in increasing the business and understanding consumer needs to grow and nurture the services and products for better consumer satisfaction.


1. Bulk SMS in airlines

Airlines companies send bulk SMS for several special offers on flight tickets. In India the aviation sector has witnessed a drastic growth over the past few years, as the least costly tickets were introduced; upper-middle-class families started using flight to commute rather than trains.
In India, the aviation industry is striving hard to offer the best airfare to all the possible consumers across business and economy class. Improvising customer satisfaction is the main motive of any airline business, so in order to achieve their customer satisfaction goal airline companies are adopting SMS mobile terminology to increase their customer satisfaction, with the help of bulk SMS services airlines company can update their passengers data and provide accurate information to them about flight details and several flight offers and seasonal discounts.


2. Bulk SMS in the automobile sector

Mostly every automobile have established their own identities to increase sales and customer service, these automobiles dealers opt for varied modes of communication to keep healthy sales figures and to improve customer relationship in the form of better sales figure and one of the most effective media is to use bulk SMS marketing which will help them to target a huge group of audience and increase their market boundaries, as bulk SMS marketing is a two way interactive service it benefits both the dealer and the customer by providing better sales and better after-sale services.


3. Bulk SMS service for banking and financial service sector

Text messaging to your customers in the banking and in the financial sector will help your business to gain a competitive advantage in the market because with the help of this tool you are able to keep the customer updated and connected with the services. SMS marketing can be used by banks to notify customers of their financial status, any bank transactions and alert for any upcoming schemes or offers. This simple communication will make your banking life more easy and safe.

4. Bulk SMS for courier and logistics
SMS messaging means bridging a gap of transaction processes at every level, which is very important for the smooth flow of business transaction and bulk SMS API will surely create new opportunities for delivery business.
Courier service uses SMS messaging for dealing transactions with their customers, this process can be made more effective by utilizing bulk SMS in your business as it will give a professional touch to your business and customer can get an immediate response of the status of their courier.


5. Bulk SMS services for e-commerce services

Bulk SMS in the online business portals comes in handy to keep the customer updated at a lower operating cost because this works with the help of a software which sends predefined texts to a large group of people regarding any sale alerts or any password reset alert or various types of business promotional offers which is beneficial to the customer in the sense of customer satisfaction and also for the business in the sense of business growth.


6. Bulk SMS in the educational sector

Bulk SMS is regarded as an instant alert method because everyone can't be updated via email because of certain network problems neither everyone can be updated via calls because it will be time-consuming as well as non-economical, but bulk messaging is quite easy to be sent and read because of no network errors and thus parents have a busy schedule, so it's not possible to call every single parent regarding any abnormal event or any programmes, thus for any last minute alert bulk texting is the only solution.


7. Bulk SMS in tours & Travel
Bulk SMS service is playing a major role in the tourism business especially in several specific countries because traveling is the latest trend in the world and everyone likes to explore new places but they run out of money and that is the place where tourism business sets in with their latest offers and schemes that ring the notification bell every now and then and keeps you updated with all the discounts being put up by several hotels and restaurants or discounts in flight bookings and several other reasons to travel more, which needs to be sent to a large group of people every single day and this monotonous extensive task can only be completed with the help of bulk SMS.


8. Bulk SMS marketing for Real estate Business

Bulk SMS marketing is quite good when it comes to handing the advertisements of any real estate business because the basic call for any real estate business handler is to display as many possible houses and plots and every broker would charge a high fees to show the plot to customers and this task can be handled much economically by a bulk SMS tool because it can send links to customers regarding new plots on the basis of information filled in by them, thus lowering down the human effort and increasing the technical advancement in the market.


9. Bulk SMS in the insurance sector
Bulk SMS Services is showing its capabilities in the insurance sector y ensuring speedy deliveries of messages and timely feedback from the customer with the help of link, and there is a huge advantage as it is cost effective and most importantly it is seen that SMS has a chance of 65% more feedback than emails and calls. Thus the insurance sector can ensure speedy feedback from their customers and easier renewals in a few clicks via the internet.


10. Bulk SMS in the media sector

Media sector has been the ever-growing sector in the market since its inception in India and as this industry has flourished it has adapted to technological changes and now bulk SMS is being used as an important tool in this sector to conduct polls and send various offers by several service providers or to spread any thought across public for major participation. Thus bulk messaging tool is helping the media industry to get more close to the customer and be more responsive to the customer.